Fast return transport to the lower cable car station
The road to Velika Planina is currently closed - with you again soon!
Enjoy a pleasant walk in the fresh air among conifers and meadows
Velika planina offers numerous opportunities for walks and longer hikes, which you can combine with the exploration of the natural and ethnological attractions of the plateau. Take a stroll through vast meadows, try excellent homemade culinary delights, find snow in the Vetern'ca cave, and visit the Preskar Museum in the heart of the shepherd's settlement. Immerse yourself in the fresh mountain air!
Preskar museum
The museum is located in the shepherd's settlement and is open every day during the grazing season on Velika planina. Its exterior is already recognizable as a small, gray shepherd's cottage located in a rocky section of the settlement.
Herdsmen's settlement
The herdsmen's settlement is considered one of the few preserved settlements of this size in Europe and attracts numerous visitors throughout the year.
It is recognizable for its typical architecture, which represents a symbol of Velika planina. The roofs of the huts are covered with characteristic spruce shingles that reach very low. In the Kamnik region, the shepherd's cottage is called "pastirska bajta" or "pastirski stan," and the spruce shingles are locally known as "šinkel."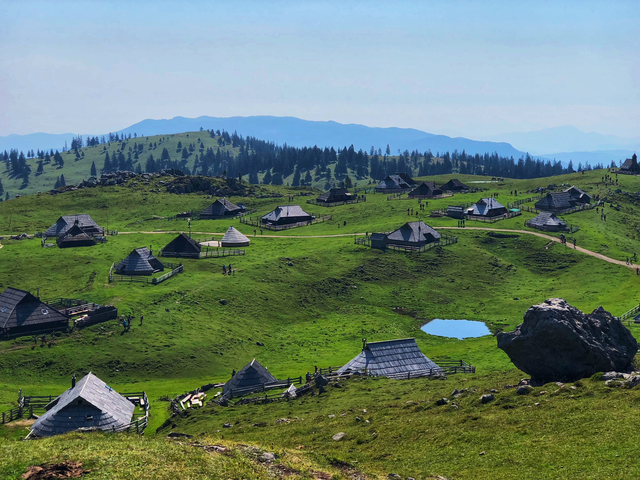 Snow Mary chapel
Slightly elevated above the shepherd's settlement, the Chapel of Mary of the Snows is located, which originally stood in this place before World War II.
Veternica and Dovja Griča Caves
Veternica Cave is the best-known natural attraction of the plateau. It consists of the Small and Big Veternica caves, which were formed by the collapse of their ceilings, resulting in the formation of two sinkholes. The Big Veternica cave is more frequently visited, and its uniqueness lies in the patches of snow that can be found inside the cave even during the summer months.
Kamnik flower Nigritella Lithopolitanica
The purple flower is most commonly found on the plateau in the month of June, adorning the meadows of Velika planina.
Although it has chosen its primary habitat on the neighboring Krvavec, it most often appears on Velika planina. It is recognizable by its grass-like leaves and violet-pink egg-shaped flowers. It is the only "murka" species classified as a rare species on the Red List of endangered plants.
Tourist Settlement
The tourist settlement is the area near Gostišče Zeleni Rob, where most of the huts are located. These huts are intended for tourists and are adapted to their needs. The idea of establishing the settlement emerged in 1959, during the flourishing of the so-called trade union tourism.